Personal Moral Compass Course 2018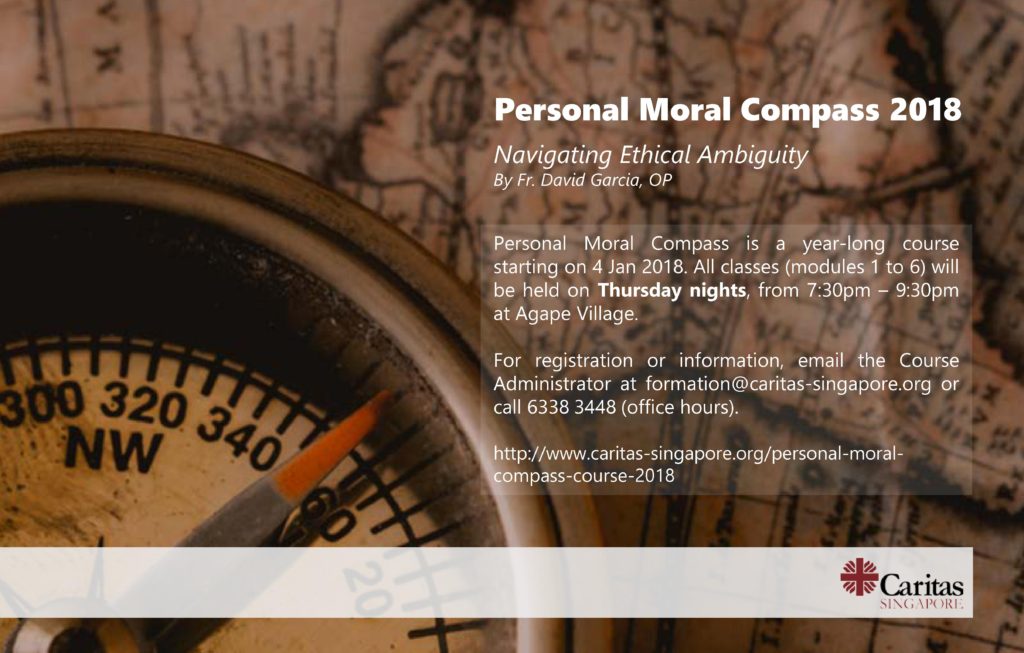 My Personal Moral Compass: Navigating Ethical Ambiguity
A Course on Thinking Ethical Problems
By Rev Fr. David Garcia, OP

My Personal Moral Compass is for all Catholics and non-Catholics alike interested in formation in the foundations of ethics.
This course is particularly targeted for that segment of society on whom the future generations depend: those involved in guiding and forming others, and those for whom this formation would be particularly pertinent at work or in ministry: these would be inclusive of (and not restricted to) young adult group leaders, lay ministry leaders, youth and adult faith formators / coordinators, catechists, teachers, counsellors, family life workers, biomedical researchers, medical professionals, humanitarian aid workers, as well as tertiary, junior college and polytechnic students; in particular those pursuing the medical, life science, legal, and social science disciplines.
The objective of this course is for participants to understand and to articulate the fundamentals of moral thinking with greater clarity. At the same time, it is hoped that participants will come to recognise that the Christian moral tradition is less an arbitrary set of rules imposed by Church authorities, and more a treasure-trove of discoveries and descriptions of observed laws which depict what best encourages human persons to thrive.
We trust that this understanding will be translated into the daily experience of participants and through them into the lives of their family and friends, in the schools and workplaces, and in their communities and society-at-large.
Refer to link for course guide  Personal Moral Compass Course Guide 2018
Lecturer: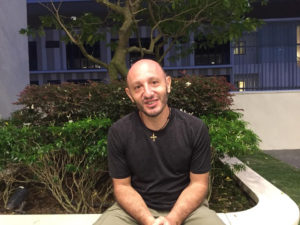 Our lecturer is Dominican Moral Theologian, Father David Garcia OP. Fr David Garcia lectures at the Major Seminary and Catholic Theological Institute of Singapore in Moral Theology and is a well-known speaker who has addressed a spectrum of issues affecting society ranging from family life, social justice and bioethics; he has worked and/or is working with various church organisations including CTIS, Catholic Medical Guild, Family Life Society and Caritas Singapore.
All classes for all Modules 1 to 6 are held on Thursday nights, from 7:30p.m. to 9:30p.m.
Classes will be at Agape Village, 7A Lorong 8 Toa Payoh, Singapore 319264.
Registration, payment and more information:
Please download the form here. Personal Moral Compass Course – registration form for 2018
The cheque and completed registration form should be mailed to:
Personal Moral Compass Course Administrator
Caritas Singapore
55 Waterloo Street
#08-01, Catholic Centre
Singapore 187954
Cash payment could also be made at the Caritas Singapore's office during office hours.
For more information, participants could email to the Course Administrator
at formation@caritas-singapore.org or call 63383448 (office hours).