He Meets Us Where We Are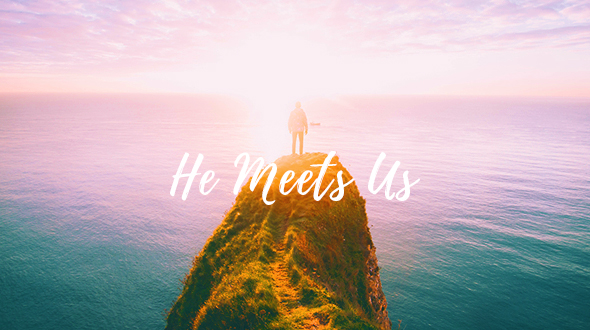 While examining my conscience to prepare for confession, it dawned on me how some of my wretched transgressions are habitual. I commit them repeatedly, with seemingly no hope of overcoming them. This realisation prompted me to further contemplate how God would view and accept my plea for forgiveness and offering of love.
Feeling restless and discouraged, I stood up and wanted to leave the confession queue when I accidently knocked over a Bible in the pew. The Bible was opened to a story of Jesus' post-resurrection, and I was immediately drawn to the exchange between Jesus and Peter (John 21:15-19).
Initially, Jesus asked Peter if his love for Him was "agapeo" (unconditional love; the love of God). Peter, however, responded that he loved Jesus with "phileo" love (friendship or brotherly love). Eventually, Jesus moved to meet the level of love which Peter was able to offer at that point in time. From there, Peter's love grew deeper and eventually culminated into "agapeo" love, which was outwardly manifested by his martyrdom.
I learned then that love itself is a journey. I may not immediately possess "apageo" love, but God is willing to accept the deficiencies of my love, to meet me where I am. And that I can grow and deepen my love towards Him by practicing daily acts of "phileo" love.
These fortnight news show us what "agapeo" love looks like and its power. The deep affection of single mums and mums of children with intellectual disabilities gave them the strength to overcome challenges arising from their caregiving duties (Lee, 2019; Mohan, 2019). Dignity Kitchen's founder, Mr Koh Seng Choon's selfless care for marginalised groups also enabled him to persevere despite the lack of support and suffering from heavy financial losses in the first few years of his social enterprise (Ng, 2019).
Let us learn from them. Let us commit to grow in our daily acts of love, drawing from the fount of unconditional love - God. So that by our love for each other, we will be recognised as Jesus' disciples (John 13:35).
---
Related Stories
---
Jacob Soo is the Membership Executive at Caritas Singapore, and serves at the Cathedral of the Good Shepherd. He finds joy in strong cups of black coffee, Catholic spirituality books, and conversations on the faith.